Life-saving work as a flight nurse may seem an odd training ground for a future career as director of information technology for a regional hospital. But for Mary Jo Nimmo, RN, MSN, and now director of management information systems at Lenoir Memorial Hospital in Kinston, two ties bind her former and current careers.

"Nursing was taking care of people when they had a need. Information systems is taking care of people when they have a need. I just fill in the blanks," she says.
Nimmo made the jump into management after attending East Carolina University's Mini-MBA for health professionals program. The non-degree executive education program gives professionals who've likely come into their jobs with a clinical background a strong business foundation.
While on the rapid ascent to top management, few professionals see the busy, ladder-climbing stage of their careers as the best time to take a detour for a time-intensive MBA program or other graduate degrees.
But as change drives business, most professionals at some point realize that they aren't equipped with all of the skills they need to manage the disparate parts of their organizations. That realization is putting executives across North Carolina back in the classroom.
Non-degree executive education programs offer an invaluable form of business intelligence, whereby companies can upgrade their mid and senior ranks in a relatively quick timeframe. Many companies now consider executive education a crucial component of individual and organizational success.
And in North Carolina, companies from Fortune 50s to entrepreneurial startups can find a course on whatever they need — from leadership to understanding financial documents — to meet their skills needs and their budgets. The state's universities and community colleges offer programs that are highly respected — Duke University's executive education programs were ranked #1 in the world by Financial Times last year. The most accessible programs, courses at the state's community colleges, cost little more than a laser printer cartridge.
And executive education isn't just for large established companies with a corporate training department. Entrepreneurs who hardly have the time for years of coursework in a traditional MBA program find executive education enriches their understanding of basic business principals and fine-tunes their knowledge in specific areas.
In executive education, the schools focus on delivering practical learning experiences with application-oriented instruction that can be applied immediately within the business. They teach executives and mid-level staff to think more strategically, improve their decision-making process, have a broader knowledge of the goals of the organization and what it takes to bring the different parts of the business together.
Who's in Class?
There are a variety of ways to participate, from daylong seminars to longer executive programs that stretch out over several months. Open enrollment programs allow mid and senior level executives to spend a few days on a college campus immersing themselves in some facet of their business where they need focus. Open enrollment courses often offer specialized courses that enhance specific skills such as finance, accounting, strategy and marketing.
Many participants value the opportunity to hear case studies from other businesses to help them look at problems in a new light. At the same time, many participants gain value from networking opportunities.
Custom programs —where schools form a relationship with a company to gain a better understanding of its particular business challenge — are growing in popularity. Programs are tailored to that company's management staff, using that company's financial data, strategies and even business lingo to address business challenges. Custom courses are usually taught at the business location.
"Historically open enrollment courses have been the biggest piece of non-degree executive education, but the trend going on now favors custom programs," says James W. Dean Jr., associate dean for executive education at UNC Chapel Hill's Kenan-Flagler Business School.
"Those companies want to make sure their investment in executive education brings value to their company and the way to get that is to jointly design the program."
Custom programs are for companies that want their managers and executives exposed to proven management program coursework but find value in having the program tailored to their business and delivered personally to their company. Companies with specific challenges that require rapid, focused change frequently turn to custom programs.
"Many organizations who want to invest in executive education want to put a large group through so they are designing it to meet their specific needs," says Raymond Smith, head of executive education at Duke's Fuqua School of Business. "But there's also a lot of enthusiasm for open programs. Networking and personal career growth can be powerful motivators."
A third type of executive education audience is association programs, which are taught by university faculty to members of industry associations who don't work for the same company but by virtue of their membership in the association have similar educational needs. UNC, for instance, provides an ongoing program for the Society of Human Resources Management called the business of human resources. It trains HR professionals in the business of their business.
Paying for Management Know-How
For most major business schools, a general management program that focuses on leadership and management skills is the backbone of their programs.
At Duke University's Fuqua School of Business it's called the Advanced Management Program. Fuqua offers the program twice a year in two two-week sessions. The course focuses on leadership challenges such as the global economy, creating and sustaining a competitive advantage, understanding the financial numbers and finding effective change within the organization. It includes topics that focus on the participants as individuals within the business. The course costs $26,500, which includes tuition, materials, accommodations and all meals.
Carolina's main management program is its Senior Executive Institute that meets one week a month for four months. The course costs $25,000. Other courses include shorter-term programs covering such topics as leadership, financial analysis for non-financial managers, managing customer relationships and negotiating strategies. Shorter courses range in price from $1,500 at the state's major business schools to $8,000 for certain multi-day programs.
Custom programs are often more expensive because of the amount of time it takes for faculty to come up to speed on a company's strengths and challenges. But when companies are able to expose a relatively large number of executives to the material, the per pupil cost comes down. At Duke, custom-made executive programs range in cost from $42,500 to $500,000.
But along with the cost comes a valuable relationship between the company and the faculty who teach it, says Dean. Business-faculty relationships that grow out of these courses can be highly valuable for the company.
"Kaiser Permanente no longer operates in North Carolina but we've had a 10-year relationship with them and some professors have been with them five to seven years," says Dean.
Getting Into the Act
Offering non-degree programs to the outside business world can be a profitable business for colleges, most of which are non-profit organizations who reinvest executive education earnings in their business schools. UNC's executive education program generates more than $10 million in revenue each year. Duke University's Fuqua School of Business has a budget of $3 million, but its custom program arm, Duke Corporate Education, has a $30 million budget.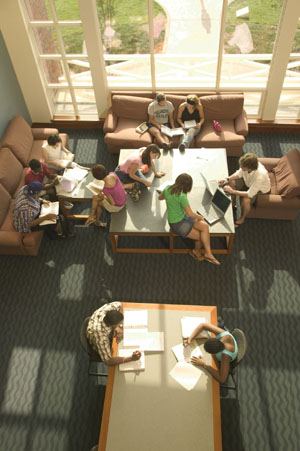 Executive education helps universities build relationships with businesses as well as revenue. Elon University near Burlington has reached out to its local business community by offering its first executive education program to Lab Corp., the largest employer in Alamance County, with almost 3,200 employees.
"We thought about folks who don't see themselves suited to an MBA program, and we thought we should reach out to them," says John Burbridge, dean of Elon's Martha and Spencer Love School of Business.
Started in 2004, the Elon and Lab Corp. partnership has so far put about 70 Lab Corp. employees through a program that focuses on leadership skills and perspective building. Lab Corp. employees who are responsible for day-to-day operations in a particular functional area gain a perspective of how the whole company is operating and how each business unit affects the others. The course takes place over five to six weeks with three-day sessions.
The interchange between academia and business is valuable, says Burbridge. Elon business faculty helps assess the company's real world business problems. Elon students seek solutions to those real world problems and often find internships at the business. Lab Corp. gets highly qualified help from right in its backyard from faculty who want to see the county's largest employer do well.
Elon's foray into executive education may grow to include open enrollment for business courses that members of the business community might take part in on campus. But Burbridge suspects that endeavor will focus on Piedmont-Triad businesses. The school's market research has revealed significant demand among the regional business community for such educational opportunities, especially among family-owned businesses.
"Business is changing fast and the skills businesses need are changing," says Burbridge. "Businesses need people who can lead change in a competitive environment."
Such opportunities to advance business skill will become more likely in 2006 when Elon moves into a new building and has space to offer new programs.
Serving Local Needs
The needs of business in a particular community often drive executive education offerings.
At East Carolina University's College of Business in Greenville, employees of University Health Systems, which operates Pitt County Memorial Hospital, come in droves to the school's so-called Mini-MBA. The program is directed specifically at health professionals who want to broaden their business skills set.
"A lot of our students start out with a clinical background and get into management," says Anne Bogey, director of professional programs at ECU's business school.
The course is taught over five days in a five-week period and covers such areas as finance and accounting, marketing, leadership and strategy. Once a year the course is taught on a contract basis for just University Health Systems employees. Employees review real financial data from the hospital and learn how to analyze operating results.
The other offering during the year is open enrollment that attracts doctors, office managers and others in the healthcare profession from as far as Kinston, Goldsboro, New Bern and Wilson for the $1,500 class.
For Nimmo, the flight nurse turned IT director, the program helped expand her management skills. She acquired a taste for business skills when she earned her masters in nursing administration, but the Mini-MBA helped enlarge her grasp of useful concepts, such as calculating the return on an investment. That skill came in handy when Lenoir Memorial Hospital did a fast-paced switch of its information systems last year.
"It made me look at the uniqueness of healthcare financing, where our revenue stream is so varied," says Nimmo. "I pulled out my old books and did some calculations before I reported to our CFO."
The experience has left Nimmo considering furthering her business education, perhaps in another graduate program.
Many students who enroll in executive education courses have their appetite whetted for more.
Investing With the Local
Business Community
Wake Forest University's Babcock School of Business offers a program called Business Essentials at its Charlotte campus. It serves as an intensive overview of the main tenants of an MBA program for those who need a skills boost, but also as an introduction to the full program for the brave few who take the plunge.
The executive education program allows participants to examine business practices from various points of view without investing in a full MBA degree, exposing students to up-to-date information on the latest business ideas. It's a 12-week program with classes held one evening a week at a price of $4,190.
"People walk away being able to answer the questions that have been on the top of their minds," says Dan Fogel, dean of the Charlotte MBA program and executive professor of strategy.
Students get to know more about a full-fledged MBA during the program and then participate in a business simulation project where they compete with other teams.
"We've had people doing it as a test case for an MBA and others who just want to learn more for their jobs."
While the Business Essentials program is used by some students to determine if they want to commit to an MBA degree, the university created the program as a way to form partnerships with industry.
"Our goal was to get as integrated with the business community as we could," says Fogel. University and business partnerships often lead to internships and jobs for Wake Forest graduates, research partnerships between faculty and business, and executives who take an interest in the university by serving on its boards, serving as speakers and in other mutually beneficial partnerships.
Those partnerships also often lead to customized executive education programs for companies, which make up the bulk of Wake Forest's executive education offerings. The university has ongoing relationships with medium to large corporations, including Lowe's, with faculty providing direct instruction to management on a variety of issues.
Competing on Cost
Companies large and small find significant value and rapid response to their education needs within the state's community colleges.
North Carolina's community colleges offer training to mid-level managers and up, and customized training programs to meet the needs of businesses in the areas they serve. Open enrollment courses include such topics as leadership, Six Sigma training, lean manufacturing principles, technical report writing and general management.
"Our job is to train, not necessarily to sit back and make a lot of money," says Wayne Loots, dean of business and industry services for Wake Technical Community College in Raleigh.
Some programs that include up to 30 hours of instructional time cost as little as $55 plus materials. Other courses, such as those authorized by the American Management Association, which include leadership and financial analysis, cost a reasonable $150.
But don't let the low cost fool you, Loots says. Many of the trainers the community college contracts with to teach its courses also train for Fortune 500 companies. And many companies that go through Wake Tech to gain training for their workforce have hired those same trainers to teach their workforce overseas.
"That's one way we know we have the right trainers to meet the corporate need," says Loots.
The community college system in North Carolina provides training and executive education at every campus, many through their small business centers. Many companies turn to the community colleges for customized programs that can be tailored to a select group of employees from one company.
Wake Tech's ongoing clients in executive education include International Paper, IBM, John Deere World Headquarters and GlaxoSmithKline.
In Charlotte, Central Piedmont Community College works with such corporate mainstays as Wachovia and Family Dollar. In 2002 CPCC received the Community College of the Year Distinguished Performance Award by the National Alliance of Business for the college's response to the work force and technology needs of local employers.
Each year CPCC offers some 2,000 sections of its executive level courses, such as decision-making, leadership and Six Sigma.
"Almost all of our instructors are from industry," says Mary Vickers-Koch, dean of business and industry training at CPCC. "They like to teach and see it as a way of giving back."
With a low cost and large volume of students in executive-level courses, Vickers-Koch and Loots say they work to ensure that open enrollment courses fit the needs of each upper management attendee.
At CPCC, Vickers-Koch says many courses, such as leadership, are offered mostly as custom programs so that experience levels of the attendees can be even. And in more and more courses, the content is blended between online work and classroom work. Those with less experience can do more work on their own.
At Wake Tech, Loots says he's found that co-sponsoring courses with groups such as the N.C. Department of Agriculture or N.C. Department of Commerce International Trade Division, who in turn target their customers, tends to bring together a cohesive student body with similar levels of experience and expectations from the programs.
While some more expensive programs saw enrollments dip during the recession of 2001, community college leaders say their numbers went up — likely in part because of their affordability — and that their numbers keep climbing.
CPCC recently opened a new Corporate Training Center near the Charlotte-Douglas International Airport.
Demand continues to increase for programs in entrepreneurship, project management, and a program called Command Spanish, for executives who need to be able to communicate with Spanish-speaking employees.
"Our mission is to help grow jobs in our community and to help people become more valuable in their jobs," says Loots at Wake Tech. "Economic development is in part taking care of people to help them get better at what they do."
Thousands of Students Wearing Ties
For people who have only a casual awareness of what the state's business schools are up to, they are often surprised to see that thousands of people other than traditional students flocking to the campuses each work day for seminars and ongoing training.
Exxon Mobile, a client of UNC's Kenan-Flagler School for six years, just had its 1,000th employee go through executive education. The number of employees from the U.S. Postal Service getting training at UNC is even larger. Wake Tech alone will offer training of some sort to 40,000 people this year.
The benefits of the partnership between academics and business are mutual.
"Executive education is part of the whole university," says Smith of Duke University. "Those companies with whom we have a close relationship influence how we think about our programs and how we put new programs together. They hire our students as interns and recruit students on the MBA side."
"Executive education is the gray area between business an academia," says Dean of the Kenan-Flagler School at UNC. "Business schools are already outward facing from the university and executive education is even further on that edge."
Improving Business Ethics
The catastrophic corporate scandals of Enron, Tyco, Arthur Anderson and others have raised questions about the misguided decision-making of corporate leaders and whether MBA schools can affect business ethics after the classroom.
It might seem that in the scandals' wake, business schools would be focusing their attention on ethics. But nationally it seems the opposite is true, with universities dropping required ethics courses or giving the topic less time in class.
"I'm very disappointed in general and have been for a long time" with the level of ethics instruction in business schools, says Peter Tourtellot, founding partner of Anderson Bauman Tourtellot Vos & Co., a Greensboro-based turnaround management firm. "Responsibility by corporate leaders should not be just for their company but also for the community."
Tourtellot is a member of the board of Elon's Martha and Spencer Love School of Business, where ethics is taught as a component of every course in the program. Students in the school's Enterprise Academy form real businesses that produce real products and often stumble over ethical dilemmas. Unlike in the real world, their professors are there to help them recognize the pitfalls and make the right decisions.
"At a young age they learn the difference between right and wrong and the pressure they can be put under," says Tourtellot. "While they are here they have a professor who helps them think through the process. That's meaningful."
MBA programs across North Carolina infuse ethics into student life, either as part of overall instruction and sometimes in an individual required course. And two Tar Heel state universities have been recognized for their exemplary efforts.
The Aspen Institute every two years produces an international survey of leading business schools and assesses the extent to which schools prepare their students for social and environmental stewardship. In its last survey, the program, called www.beyondgreypinstripes.org,recognized both UNC Chapel Hill's Kenan-Flagler Business School and Wake Forest University's Babcock School of Business for their efforts and results in keeping ethics a part of a business's bottom line.
UNC is considered among just six schools on the leading edge of social responsibility in business, along with Michigan, Stanford, Yale, York in Toronto, Ontario and George Washington University. UNC launched a program in 1998 called the Sustainable Enterprise Initiative, which offers education research and outreach.
At Wake Forest University, courses on finance, organizational behavior and strategy all address what is called the triple bottom line. That means managers must consider not only the economic bottom line, but also the social and environmental costs and benefits of their company's actions.
"Research has shown that companies that pay attention to those three items have a better bottom line," says Dan Fogel, dean of the Charlotte campus of Wake Forest University.
At Wake Forest, instructors talk openly about how companies cook their books, and guide students on how even choosing to work for certain types of companies might put them in situations that challenge their sense of right and wrong.
"Students have a desire to act ethically but they get pressure at work or they don't recognize ethical problems and then get in trouble," says Fogel. "We talk about it now so they'll recognize it then."
— Laura Williams-Tracy
Serious Games Train Workers
North Carolina is nearing a "critical mass" in business, academic and industrial expertise in creating high technology training methods that resemble video games.
So says Michael Young, professor of engineering at N.C. State University, who spoke at a Research Triangle symposium on "Serious Games" sponsored by the N.C. Council for Entrepreneurial Development last fall. Young points to the confluence of video game companies, such as Raleigh-based Epic Games, businesses such as RTI International, and academic interest at the region's tech-savvy universities as the beginning of a new "cluster" industry in the state.
"It turns out that all this technology developed for entertainment games is there for people interested in training and education," Young says. N.C. State is developing an academic consortium with game companies and studios in the Triangle area to pursue using them for more serious educational purposes.
Triangle-based RTI International already specializes is developing high tech simulation training for military, commercial and healthcare customers. Its creations include a virtual human called "Sim-Patient" that trains hospital and emergency care workers to respond to various scenarios. Cary-based 3Dsolve sells its video game-like simulation learning programs to the government, the military and N.C. Global TransPark Authority.
But the use of games to train executives and workers is not limited to high tech methods. At Alamance Community College (ACC), they've been doing the same thing for years with paper hats, Legos and erector sets.
Jeff Bright, business and industry assistant to the president of ACC, has conducted games since 1992 to help train and evaluate workers and managers at companies such as Honda, GE, and GKN in Mebane, Culp in High Point, Accucote in Graham, Injectronics and Copeland Fabrics in Burlington and Alamance County employees.
The state itself and other community colleges also use specially designed low tech simulation games to train workers in business procedures.
Bright explains that such training games, while decidedly low tech, are designed to give managers and workers insights difficult to obtain otherwise. "It's impressive how much you can learn watching people make paper hats," he says. "The games reveal good and bad traits in pre- and post-hire situations, such as someone who angers easily or doesn't play nice as well as those who cooperate well."
More complicated games can be used to teach "lean manufacturing processes by building airplanes from Legos," Bright says. Honda used a game designed by HRD Strategies in Greensboro that involved building lawn mowers from erector sets as a way to explore the design process itself, Bright notes.
Bright says the games are frequently used in corporate retreats ACC conducts for clients such as Burlington-based Lab Corp. so that managers can observe how people work together. But all the games are serious. Bright says, "We have to make sure that what they learn in a game can be applied to real life or we won't get repeat business." — Allan Maurer