Profile of North Carolina Citizens
for Business and Industry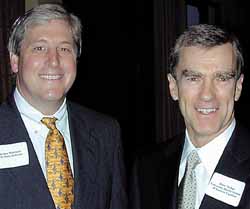 With about 2,000 member companies of all types and sizes, North Carolina Citizens for Business and industry is the state's largest and most influential business group, widely respected for its balanced, thoughtful approach to public policy issues. A nonpartisan, nonprofit membership organization, NCCBI was founded in 1942 and has served for the past 25 years as the state Chamber of Commerce, and is recognized as such by the U.S. Chamber of Commerce. NCCBI also is the official state affiliate of the National Association of Manufacturers. A former governor once described NCCBI as "almost a fourth branch of government."
NCCBI's broad mandate is to improve the quality of life for all North Carolinians, a goal it pursues by working to safeguard the state's favorable business climate, by improving educational opportunities for everyone and by maintaining a clean, healthy environment.
NCCBI leadership was evident in enactment by the General Assembly of lower corporate income tax rates, repeal of the intangibles tax, reform of the workers' compensation system, increased funding for state parks, sharply higher salaries for school teachers, support for mass transit, and new business tax credits to foster growth and expansion.

Manufacturers represent the largest group of members in NCCBI, but the association's broad base includes all kinds of businesses, large and small, as well as most of the colleges, universities and community colleges in the state. Most local Chambers of Commerce also are NCCBI members, as are dozens of trade groups representing specific businesses and professions. NCCBI members employ more than one million people in the state.
The association's leadership over the years of efforts to improve the public schools was acknowledged with the appointment by Gov. Jim Hunt of NCCBI President Phil Kirk as chairman of the State Board of Education, a volunteer position he served in through May 2003. Kirk previously was vice chairman of the State Board of Community Colleges.
NCCBI keeps its members up to date on politics and business trends through its award-winning North Carolina monthly magazine, the weekly Legislative Bulletin, the monthly For Members Only newsletter, and other research materials. Membership dues are a function of a company's size and type of business, starting as low as $400 a year.